Thoughtfully Crafted by First Generation Lavender Farmers
We love cultivating garden inspired products for others to enjoy, and hope our products bring you a sense of calm + well-being.
Gift Boxes
Some of our best sellers make the greatest gifts! Give the gift of calm and relaxation with our our high quality printed gift boxes. Our boxes are sure to surprise and delight your welcomed recipient.
Shop Collection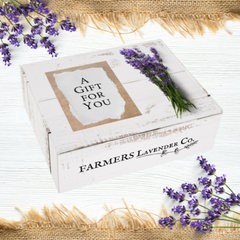 LAVENDER COFFEE
FARMERS Coffee Co. Lavender Coffee is delightfully floral and sophisticated, creating a unique and calming coffee experience. 
Our coffee is sustainably sourced and roasted in small batches at the farm.
Shop Collection
LAVENDER TEA
FARMERS Tea Co. Lavender Loose Leaf Tea Blends contain fresh, vibrant herbs with aromatic floral notes.
Our teas are sure to lift the spirit, ease the mind and bring you a delightful tea experience.
Shop Collection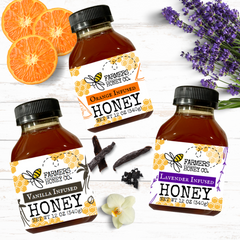 FLAVOR INFUSED HONEY
FARMERS Honey Co. Flavor Infused Honey will elevate the taste of warm biscuits and scones.
Use in your favorite drink and create a uniquely sweet coffee, tea or even cocktail experience.
Shop Collection
BATH & BODY + AROMATHERAPY
FARMERS Lavender Co. products are formulated to cleanse, nourish and moisturize skin.
Our products are made with high quality ingredients, and Lavender essential oil to help ease a busy mind.
Shop Collection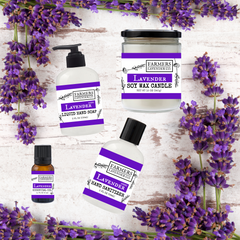 SACHETS, BUDS AND BUNDLES
Lavender Sachets, Culinary Lavender Buds and Dried Lavender Bundles (seasonal).
Shop Collection
THE FARM IS RELOCATING THIS SUMMER
Our family has made the decision to relocate the farm to Madrid, New Mexico where the lavender should thrive due to improved soil and climate conditions.
We are thankful for our time and the community support received while growing our passion here in Rockwall, TX.
We're excited to document and share our new adventure with you!